Osteopath, Herbalist & Psychosomatic Therapist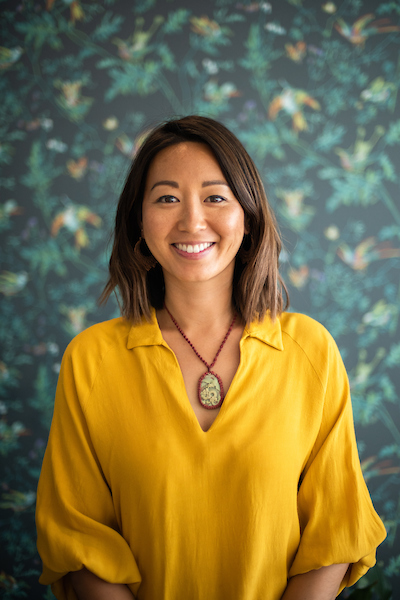 Jin is the founder of MetaMed, an intuitive therapist with 13 years experience as an Osteopath, Herbalist, Western Medical Acupuncturist and Psychosomatic Therapist.
She has extensive experience working in a range of clinics in Australia and New Zealand treating acute and chronic musculoskeletal conditions and pre/post-operative compensation and pain. With a strong integrative approach including teaching emotional awareness, and a focus on education, you'll come away with the knowledge to live to your full health potential.
Jin is an Australian trained Osteopath having completed 5 years of study in Osteopathy at Victoria University of Technology, Melbourne, Australia. She has also studied Western Herbal Medicine after her own success with herbal treatments.
Her approach to treatment is direct and to the point. Using skills in joint manipulation, soft tissue and prescriptive pilates. She also has a particular interest in utilising dry needling and Western Medical Acupuncture techniques to resolve chronic musculoskeletal issues, chronic pain, reset muscle habit patterning and to boost effects of overall treatment.
She has always had an intuitive approach to treatment. As a Psychosomatic Therapist she reads and interprets what the body is trying to communicate (in a non-fluffly way) to help patients acknowledge what and how emotions were manifesting in their body as pain, dysfunction or disease.
Jin now sees patients specifically focusing on the psychosomatic aspect of pain. Using her ability to read the body and the meaning behind physical issues and presentation, she helps her patients to become emotionally aware of the state they are in. Acknowledging this is one element, but then facilitating the release of stuck emotions is where the shift really happens. Jin loves to help people release the issues in their tissues using specific techniques targeted at dealing with the emotion (not just the symptoms of it). She'll help people through the emotional blocks, guides them to express themselves fully, accelerate the healing journey and get them back on track, living the life they want.
Jin also hosts a podcast called The Art Of Listening To Your Body with tips on learning to understand your body as well as 'pain story' interviews. CLICK HERE to access on all listening platforms.
Availability
For more information on Jin's approach, you can read about it at The Art Of Listening To Your Body.
Jin also provides personal and business coaching services, as well as online zoom consults for those who aren't local.
Jin can be contacted by email [email protected]
Qualifications
Bachelor of Health Sciences (Clinical Science); Masters of Health Science (Osteopathy)
Advanced Diploma Western Herbal Medicine
Post-graduate certificate in Western Medical Acupuncture with Auckland University of Technology
Certificate III Psychosomatic Therapy
Advanced Certificate Neuro-Muscular Dry Needling
Professional Associations
OCNZ (Osteopathic Council New Zealand)
NHAA (National Herbalists Association Australia)
AIBMAPT- Australasian Institute of Body-Mind Analysis and Psychosomatic Therapy
ACC accredited provider
Medicare Australia
And if you're still interested…
Jin has had the opportunity to work in both New Zealand and Australia with a variety of patients including professional skiers, endurance and multi-sport athletes, Ironman competitors, farmers, office-based workers and pregnant mums.
She favours an integrative approach and work collaboratively with many different practitioners: GPs, surgeons, naturopaths, remedial therapists, Traditional Chinese Medicine practitioners, counsellors and nurses. She endeavours to build a trusted network of therapists to refer to (if you're a therapist and would like to connect with Jin or any of our other practitioners we would love to hear from you).
Grew up in Melbourne, Australia.
Married to a mountain guide/adventure photographer who hates following rules.
Has a beautiful daughter Violet who was born at home by Lotus birth.
Has worked in the beauty industry and has been a ski patroller.
Looooves backcountry skiing, mountaineering and rock climbing and finds balance in yoga and Vipassana meditation.