Osteopath, Herbalist & Psychosomatic Therapist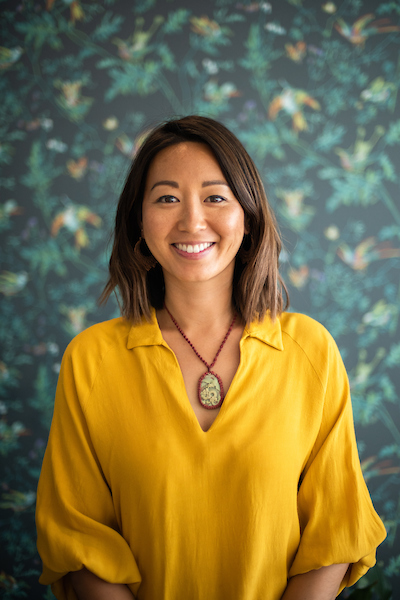 Jin is the founder of MetaMed, an intuitive therapist with over 10 years experience as an Osteopath, Herbalist, Western Medical Acupuncturist and Psychosomatic Therapist.
She has extensive experience working in a range of clinics in Australia and New Zealand treating acute and chronic musculoskeletal conditions and pre/post-operative compensation and pain. With a strong integrative approach and focus on education, you'll come away with the knowledge to live to your full health potential.
Jin is an Australian trained Osteopath having completed 5 years of study in Osteopathy at Victoria University of Technology, Melbourne, Australia and gained a Bachelor in Health Science (Clinical Science) and Masters in Health Science (Osteopathy). She has a direct approach to treatment using skills in joint manipulation, soft tissue and prescriptive pilates. She has a particular interest in utilising dry needling and Western Medical Acupuncture techniques to resolve chronic musculoskeletal issues, chronic pain, reset muscle habit patterning and to boost effects of overall treatment.
After some ongoing niggling health issues that conventional medicine was unable to help with she worked with an amazing Naturopath who helped to clean up her diet and prescribed a course of some (not so) tasty herb blends. Years of annoying skin issues were cleared (amongst other things). Inspired by the results she went on to study an Advanced Diploma in Western Herbal Medicine.
She has always had an intuitive approach to treatment but couldn't quite put the pieces together when she knew a patient's emotions were playing a bigger part in their complaint than they realised. Training to becoming a Psychosomatic Therapist completely changed her view of the body and enabled her to help patients acknowledge what and how emotions were manifesting in their body as pain, dysfunction or disease.
Jin has recently worked in one of Melbourne's top integrative Naturopathy clinics that offer natural fertility and oncology care for cancer patients alongside conventional treatment. She has a number of valued practitioners she still refers to in Australia when she feels a more specific care is needed for a patient.
Availability
Jin is available for appointments Monday & Wednesdays at our Wanaka clinic in Russell Street. Appointments are limited.
Jin can be contacted by email jin@metamed.co.nz
Qualifications
Bachelor of Health Sciences (Clinical Science); Masters of Health Science (Osteopathy)
Advanced Diploma Western Herbal Medicine
Post-graduate certificate in Western Medical Acupuncture with Auckland University of Technology
Certificate III Psychosomatic Therapy
Advanced Certificate Neuro-Muscular Dry Needling
Professional Associations
OCNZ (Osteopathic Council New Zealand)
NHAA (National Herbalists Association Australia)
AIBMAPT- Australasian Institute of Body-Mind Analysis and Psychosomatic Therapy
ACC accredited provider
Medicare Australia
And if you're still interested…
Jin has had the opportunity to work in both New Zealand and Australia with a variety of patients including professional skiers, endurance and multi-sport athletes, Ironman competitors, farmers, office-based workers and pregnant mums.
She favours an integrative approach and work collaboratively with many different practitioners: GPs, surgeons, naturopaths, remedial therapists, Traditional Chinese Medicine practitioners, counsellors and nurses. She endeavours to build a trusted network of therapists to refer to (if you're a therapist and would like to connect with Jin or any of our other practitioners we would love to hear from you).
Grew up in Melbourne, Australia.
Married to a mountain guide/adventure photographer who hates following rules.
Has a beautiful daughter Violet who was born at home by Lotus birth.
Has worked in the beauty industry and has been a ski patroller.
Looooves backcountry skiing, mountaineering and rock climbing and finds balance in yoga and Vipassana meditation.