Osteopathy for newborns and toddlers is a safe, gentle and effective way to help with a range of issues that may be causing your child to be upset and unsettled. Your baby can see an osteopath for treatment just a few days after birth – meaning no child is too young for treatment.
Many people think that because a newborn is so young, that surely they cannot have any muscle tension or pain! However, the childbirth process is a stressful experience for both mother and child. As the child exits the birth canal, an extreme amount of force is placed upon him/her to fit through a narrow gap. To allow this to happen, the skulls of newborns are flexible, having not yet fused together. Multiple fontanels or soft spots in the skull allows the bones to overlap as baby passes through the birth canal. Additionally, the baby has to twist and turn while it passes through the body pelvis. Every now and then a baby may have lasting strains and joint restrictions from this process, with tension in their head and neck that results in abnormal head shapes, pressure in the skull or head favouring. Likewise, other areas may also be affected, including the shoulders, back, stomach and pelvis as well as their digestive system
Commonly treated issues include
Deformational plagiocephaly aka abnormally shaped head from head favouring towards one side, leading to the baby laying its head on one side and in the same position or a prolonged labour
Muscular torticollis – aka twisted or wry neck
Breastfeeding/feeding/latching difficulties
Reflux
Sleep disturbances
Unsettled, restless, colicky babies
Nasolacrimal duct obstruction – aka eye discharge
Constipation and/or diarrhoea
Checking for age-appropriate reflexes and hip function
Osteopathic treatment – what does it involve?
Newborns and toddlers respond much faster to treatment than adults. Their muscles relax and their nervous systems calm down quickly, with a very light touch. For this reason, treatment is subtle, gentle and definitely doesn't feel like a massage that an adult might get. On average, a child will only need to see an osteopath for 2-6 treatments and benefit from long-term results, however, this depends on the reason and cause of the issue and the age of the child.
This gentle treatment will involve looking over your baby so we can check for hip and back alignment and assess mobility. It's best if your baby is fed and somewhat settled before the appointment – keep this in mind when choosing an appointment time.
Treatment aims to reduce any muscular tensions found, whether this is in the hips, back, shoulders, neck or head. To do this, light soft tissue massage and balancing techniques are used, as well as rhythmic movements to free up joints. No joint clicking/cracking is done to newborns or toddlers in osteopathic treatment.
Babies cannot directly tell us about their discomfort, instead, they may cry, not sleep and be generally unsettled. Osteopathy can help babies with any physical discomfort, allowing them to really settle into their surroundings. Osteopaths can also help to screen for tongue tie and hip issues, teach you some handy settling techniques and advise mum and dad on best ways to hold/breastfeed for her own comfort.
We can also help with training you how to massage and treat your child, what pressure to use and massage techniques to help with self-care at home.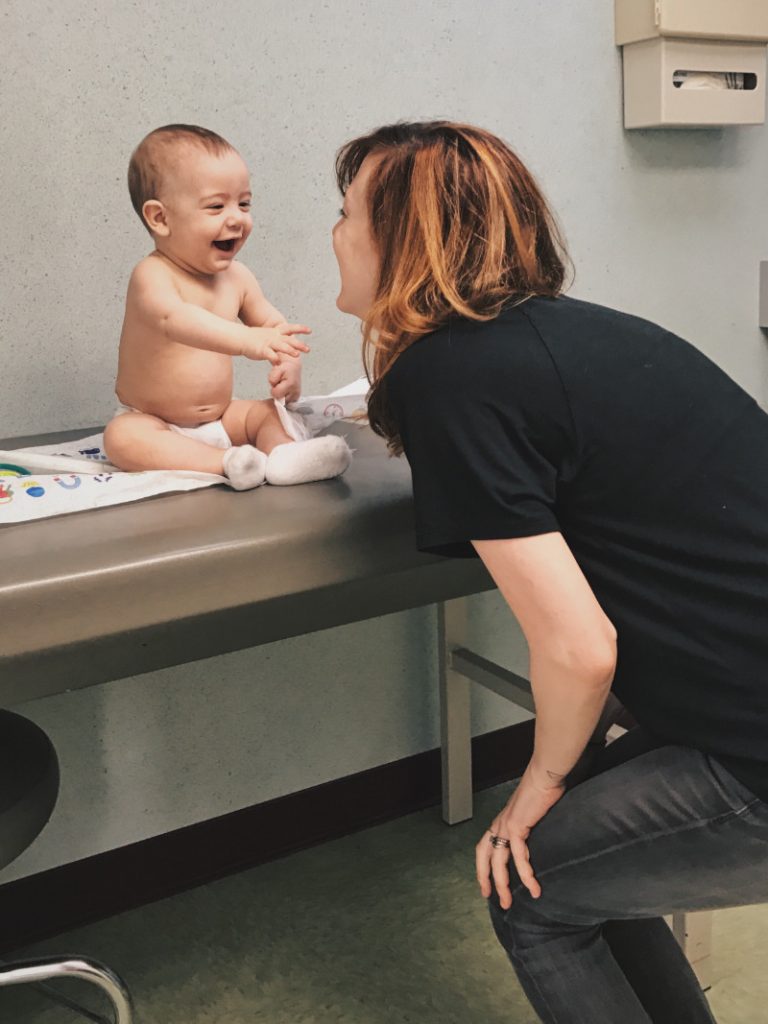 Cranial Osteopathy
Cranial osteopathic treatment is a gentle yet effective treatment approach that provides long-term results. Cranial techniques usually involves gentle touch to feel the body's natural involuntary rhythm created by the flow of cerebrospinal fluid through the body's tissues. There can be areas in the body where the tissues do not move as freely and the movement is "stuck". With a very light touch, the circulation of the cerebrospinal fluid can be affected and improved, restoring healthy fluid movement to the tissues and bringing balance and ease, which promotes the body's own self-healing mechanisms to restore health and wellbeing.
Although cranial treatment can be useful for people of all ages and builds, babies benefit greatly from early osteopathic treatment. It is a common belief that babies and children should have no structural strains in their bodies as they are too young to have experienced these, however this is not always the case. Babies are often much more settled following treatment as they are grateful to have the stresses of birth and the position that they were in during in-utero released and removed.
An osteopath who is credited with being one the founders of cranial osteopathy said "as the twig is bent so the tree will incline" (WG Sutherland). What this mean is that if there is a strain that occurs during the early stages of one's life, the body will adapt around this and will grow in
Cranial treatment is suitable for all babies and children and can address a variety of conditions and symptoms.
Before and after treatment
Ideally, your child will be fed and settled prior to treatment. After treatment, you may not notice changes immediately, as the body takes time to adjust to treatment. Much like when adults get osteopathic treatment or a massage, babies may also feel more sleepy or irritable for a few hours afterwards.
Reactions to osteopathic treatment are variable. Often the baby or child is very relaxed afterwards and sleeps well. Other children have a burst of energy following treatment, and then usually sleep well after this. Occasionally, babies are unsettled after treatment. This is temporary and can be due to restrictions not having been able to be fully released if they are severe. Additionally, some babies are just unsettled following treatment as Cranial Osteopathy can feel different from anything they've ever felt before.
How many treatments will be needed?
On average two to six treatments are usually enough. This does vary according to the severity of the problem and the age of the baby/child. The younger they are, the less treatment it usually takes. We will be able to give you a better idea of the number of treatments that will be required after talking to you and following the initial treatment.
Mums and Bubs duo appointments
At Metamed we offer Mums and Bubs 90 min duo appointments which are ideal during the first 3 months postpartum. This provides ample time to give both baby and mum a treatment after the marathon of birth. 
These appointments are excellent for addressing any strains or structural restrictions that a baby might be carrying post-birth, whether it was a difficult birth or not. Helping to ease common complaints such as sleep disturbances, reflux and an unsettled baby.
Meanwhile, mum can also get some much needed TLC. Your body has gone through so many changes in a short period of time, from being a pregnant woman to a new mother in 9 months! We adopt so many new positions as a new mum; breastfeeding, rocking baby to sleep, carrying the carseat – all of these can cause pain and discomfort that's unnecessary.
Our duo appointments are available exclusively with our Osteopath Franca Bauer. Franca combines both structural and cranial techniques, as well as offering support on feeding and latching issues and providing straightforward tips and tricks that you can use at home.
You can BOOK ONLINE with Franca for the Mums & Bubs Duo treatment at our Wanaka clinic, located at 25a Russell Street, Wanaka 9305. Book online HERE, or call 03 443 2628. 
Appointments available: Monday – Friday 8.00 am – 8.00 pm
How to choose a good osteopath for your baby
Things To Consider When Choosing An Osteopath For Children.
As of 2021, all Osteopaths are required to have undertaken extra paediatrics training at the Ara Institute of Canterbury – if not, they are not allowed to treat anyone under the age of 16.
Other than the required qualifications, a good Osteopath will be fluid with treatment, working with the movements and needs of your baby. Osteopaths that treat babies generally have a soft touch, need to be calm during treatment and confident handling and interacting with babies and toddlers.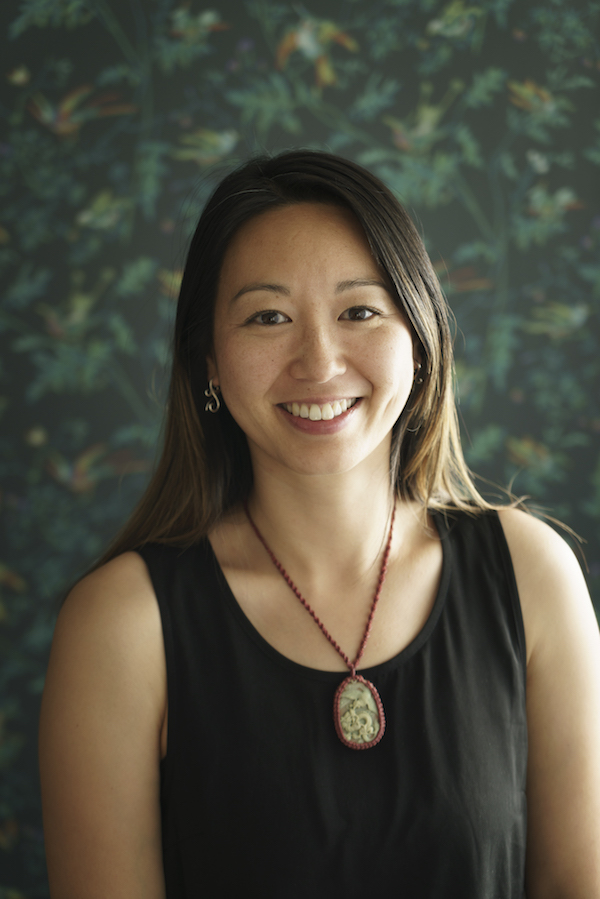 Osteopath, Herbalist, Western Acupuncturist & Psychosomatic Therapist.
Jin is an intuitive therapist with 12 years of clinical experience. Her passion is the mind-body connection and how our physical body is a manifestation of our emotional state. She loves to get to the root of people's issues by delving deeper.
Jin's areas of special interest are frozen shoulder, jaw pain, sacro-iliac joint pain and pregnancy related issues.
Favourite technique: Jin uses a variety of treatment modalities but her favourite for getting results is dry needling and psychosomatic therapy.