Wanaka and Queenstown could very well be the town with the most shoulder injuries in NZ. Here at Metamed we frequently see patients that have hurt their shoulder while partaking in one of the many outdoor activities that many people in this area enjoy. Mountain-biking, skiing, parasailing, you name it.
The shoulder is a complex joint, made up of many small muscles (rotator cuff, NOT rotor cuff) that all have a crucial role to play. 'Crucial' because the joint is so mobile and has little in the way of supporting ligaments, so the muscles have to be strong to stop your arm flapping about in the wind. If one of these muscles is out of kilter, you are more susceptible to injury and on-going pain. So, a quick anatomy lesson.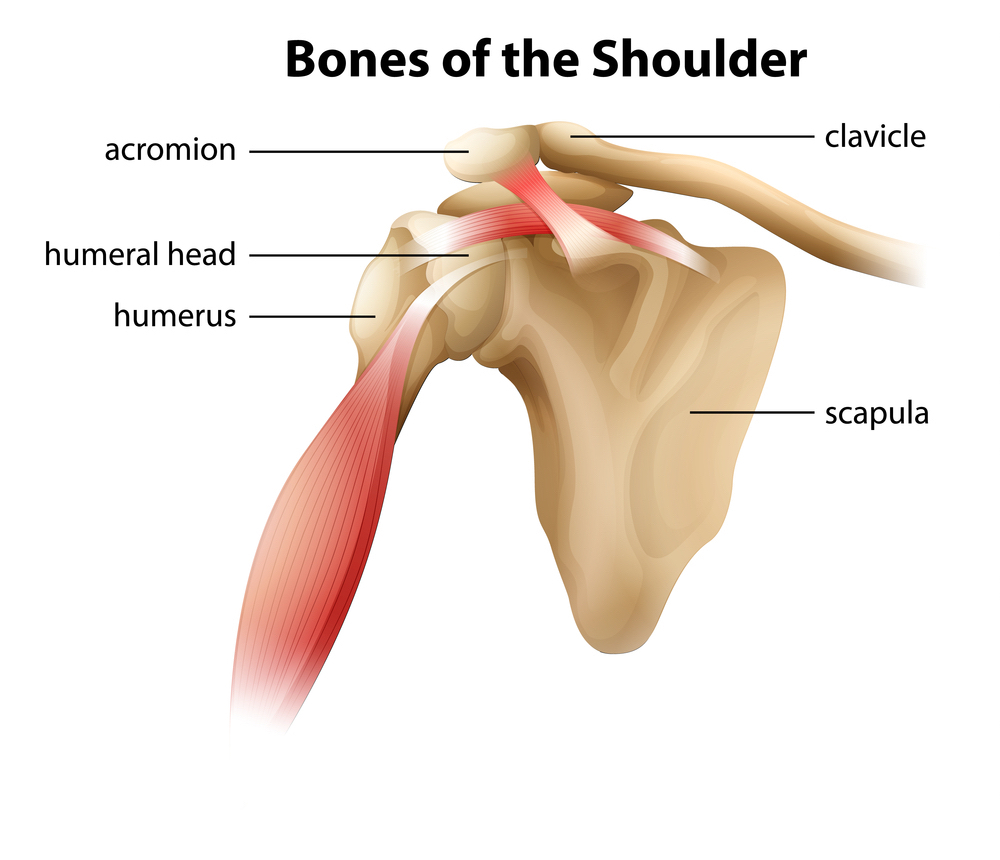 Shoulder anatomy 101
BONES: The shoulder complex is made up of 4 main bones, your humerus, scapula, clavicle and sternum. These combine to make 4 joints that all affect how your arm moves.
LIGAMENTS: The ligaments in the shoulder are small, this allows us increased mobility but sacrifices stability.
MUSCLES: This infamous structure is a collection of 4 muscles: subscapularis, infraspinatus, supraspinatus and teres minor. Good names huh? That's why we call it the rotator cuff… These muscles are located on the back of your shoulder, with your pectoralis major and deltoid supporting the front.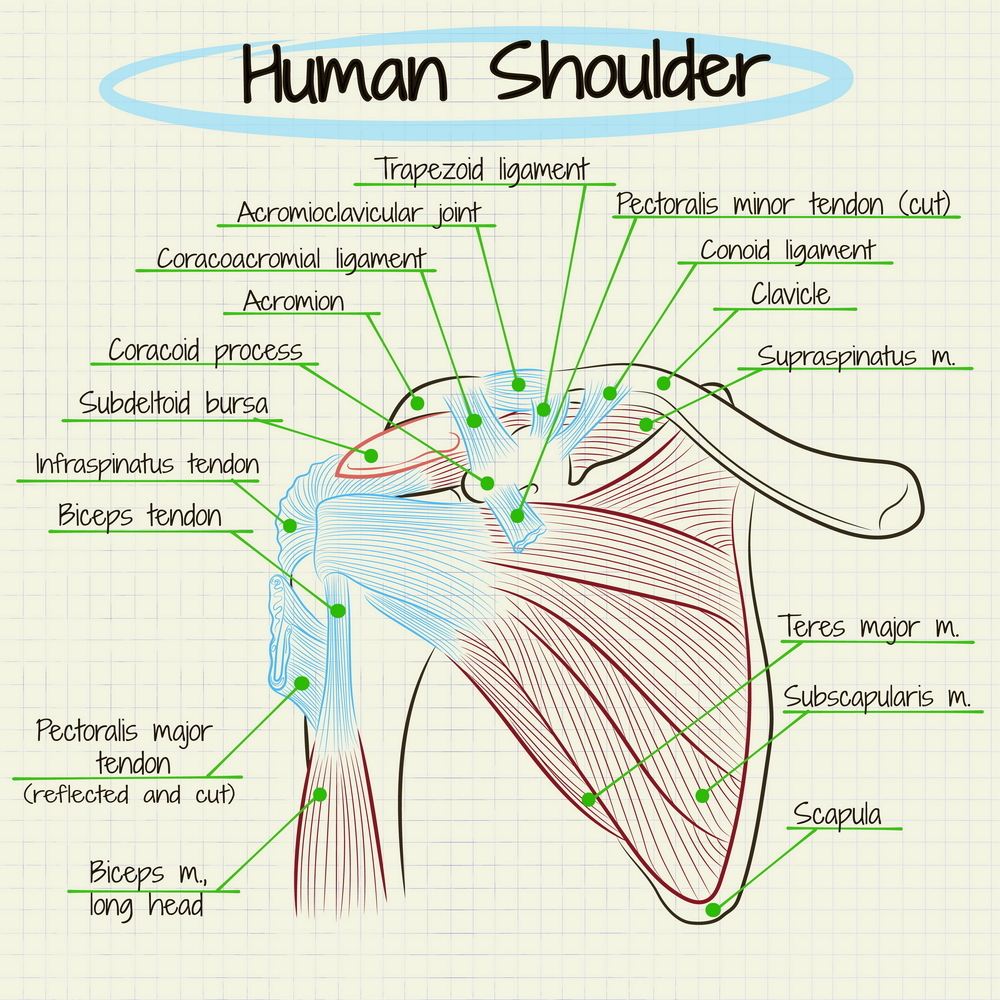 Rotator cuff tear
What it is – The four muscles that make up the rotator cuff are responsible for keeping the 'ball in the socket' and assists in moving your arm. The leading cause of shoulder pain and disability, rotator cuff tears are common in sportspeople and those who do a lot of overhead work. They can be from traumatic injuries or from micro-tears that build up over time and lead to degenerative changes.
What it feels like – pain at night, with overhead activities, weakness and stiffness in the shoulder. Difficulty raising your arm, compensating by hiking through your upper traps in your shoulder. Pain can also radiate down the arm and into the neck.
Treatment
Manual therapy – works on muscle tension that may be affecting the position and mobility of the shoulder blade and humerus causing increased pain at the area. Exercises to strengthen the un-injured muscles and increase stability. Once the injured tendon has healed, focus is put on regaining the ability to activate and strengthen that muscle.
Medical – surgery to reattach the tendon, for complete or large partial tearsonly. This requires a referral to a specialist which your osteopath can organise. Receiving medical treatment before surgery is always a good option to improve your surgery outcomes. Surgery will also depend on how much you use your shoulder in work and sports. Over time your body can compensate even if a muscle or tendon has completely ruptured.
Other – ice/heat, rest, time.
Rotator cuff tendinopathy:
What it is – every muscle is connected to bone via a tendon. Tendinopathy occurs when there is a period of overuse, or increased compression or load. The tendon that is placed under strain fails to fully heal and the result is a swollen and vulnerable structure.
What it feels like – Dull pain that increases over time. Sometimes sharp pain/pinch in the shoulder or lifting your arm overhead. Growing weakness and pain with arm movement/sleeping on it.
Treatment
Manual therapy: Massage to reduce swelling and improve function in the muscle. Injury specific exercises. Advice on asymmetries in training/movement. Strengthening work to ensure other muscles around your shoulder are strong and supportive.
Medical: corticosteroid injections (often doesn't last for more than a month). If you do opt for this try and get a guided injection to ensure the right spot is targeted.
Other: anti-inflammatories such as ibuprofen. Ice to reduce swelling. Rest from aggravating activities.
Shoulder impingement
What it is – There is a small space (approx. 1cm) underneath your clavicle and scapula called the acromioclavicular joint (see above). In the space runs the tendon to one of the rotator cuff muscles – Supraspinatus. Along with this tendon is a pad called a bursa, which helps the tendon to glide back and forth smoothly. If either of these get irritated (such as tendinopathy or bursitis) and swell up, the tissues get compressed into the small space and cause pain.
What it feels like – pain in the front of side of the shoulder that increases when the arm is lifted. Increased tension in the neck and increased headache frequency.
Treatment
Manual therapy: Conservative treatment of this injury can take up to a year in some cases however a decrease in symptoms is often noticed much sooner. It involves reducing tension in the shoulder/back/neck to encourage optimal function of the muscles and function of the joints. Guided rehabilitation and techniques to increase the space are also provided as well as improving overall strength.
Medical: corticosteroid injection but only once manual therapy options have been exhausted.
Other: rest from overhead activities, shockwave or laser therapy.
Dislocation/instability
What it is – Considering the anatomy explained above, with the lack of ligament and muscle support in the front of the shoulder, it's no wonder that shoulders frequently dislocated forward (97% of all dislocations). This often occurs when the arm is stretched up in a reaching position. Instability occurs after a dislocation is the surrounding supporting structures have been stretched or torn, allowing the ball joint to 'pop out' easily. Nerve and rotator cuff damage can also occur.
What it feels like – If dislocated all movements are painful and the top of the humerus look misplaced. You'll be very limited with your range until the shoulder is relocated. Often people experience dislocations that spontaneously relocate by themselves. This instability can cause the shoulder to ache, feel loose, or vulnerable in positions such as reaching up or reaching up and back.
Treatment
Manual therapy: to help ease any muscular spasms and tension that has developed due to pain in the shoulder. This sets you up well for rehab.
Medical: relocation of joint, surgery to restore stretched/torn structures. Surgery can generally wait until the shoulder has been assessed.
Immobilisation: 3-6 weeks if under the age of 40 and 1-2 weeks if over the age of 40.
Restore motion: Work on slowly restoring full range of motion in the shoulder with specific functional exercises.
Strengthening: exercises introduced to prepare the muscles for a full return to sport/work.
The importance of rehab
As you can see, these injuries often have a long rehab process that requires a combined effort from patient and their manual therapist, with specific exercises and treatments. The amount of effort you put into your rehab, whether it be resting (actually resting) or doing the exercises prescribed, the faster you will be pain free.
If you have a sore shoulder that's just not going away, book in with one of our practitioners today for an assessment. We are here to help!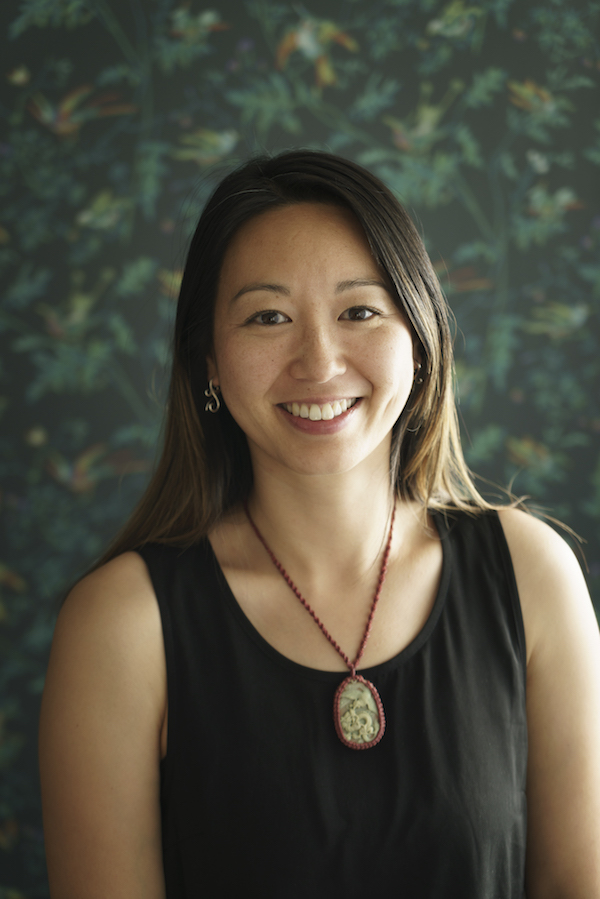 Osteopath, Herbalist, Western Acupuncturist & Psychosomatic Therapist.
Jin is an intuitive therapist with 12 years of clinical experience. Her passion is the mind-body connection and how our physical body is a manifestation of our emotional state. She loves to get to the root of people's issues by delving deeper.
Jin's areas of special interest are frozen shoulder, jaw pain, sacro-iliac joint pain and pregnancy related issues.
Favourite technique: Jin uses a variety of treatment modalities but her favourite for getting results is dry needling and psychosomatic therapy.