Sports Massage & Musculoskeletal Therapist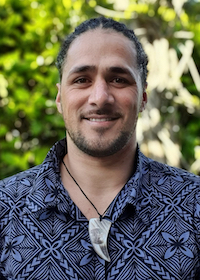 Yvane has completed a Bachelors Degree in Human Biology (BAppSci).  Yvane is currently fulfilling the research & thesis requirement for his Masters of Osteopathy. With 4 years experience in Therapeutic & Sports massage, Yvane's treatment approach is primarily structural with the use of techniques such as soft tissue, joint articulation, inhibition and muscle energy techniques.   

Growing up in the Pacific Island Kingdom of Tonga, Yvane's engagement with martial arts and professional dance led to multiple injuries, including a significant disc herniation in his neck. Having experienced the holistic methods of traditional Tongan manual therapy and health practices, Yvane was determined to investigate alternatives to spinal surgery.

He credits the recovery and ongoing management of his injuries to osteopathic treatment. This positive experience inspired Yvane to move to New Zealand and embark on his own journey with the goal of helping others understand and manage their own health and well-being.

Yvane is a firm believer that an individual's health is influenced by more than just physical factors. Yvane promotes the mind-body connection in his treatment, and is especially intrigued by how emotions are stored and manifest in the body throughout our lives.

Malo

Areas of interest: neck and shoulder pain/tension, lower limb and pelvic pain, and chronic back pain.

Availability
Yvane will be working across our Wanaka and Queenstown clinics.

CLICK HERE TO BOOK ONLINE

Or contact Wanaka 03 443 2628 Queenstown 03 451 1342

Qualifications
Bachelor Applied Science (Human Biology)
Sports Massage Therapy

If You're Still Interested
Yvane is the first Tongan and second Islander to come through Unitec!
He is experienced in many styles of martial arts including: Judo, Aikido, Taekwondo and Brazilian Jiujitsu and teaches self-defence to all ages.
Represented Tonga and travelled the Pacific and New Zealand in performing arts, dance and theatre.
Had his broken arm fixed with plates and screws in Tonga, then was asked if he could give them back to use on another operation! He had surgery to donate back the screws.
Actively involved in community work amongst the Islander community in Auckland and New Zealand