Congratulations your baby is here.
When a baby is born the process of birth is a stressful event. It's important to know that not all stress is bad. Many of the processes of labour and the surge of hormones trigger a cascade of important events for your baby. This can be seen as positive stress.
We understand that not everyone can have a natural birth. Sometimes this is planned, sometimes it isn't. It may range from having some intervention like forceps, the suction cup or a c-section. Or it could just be a longer than expected labour.
It's not just the baby that goes through changes, mum and the whole family goes through a big transition and recovery period. Sleep routines change, lack of sleep may be an issue. You may just keep thinking, it will get better. Especially if you are suffering lack of sleep we encourage you to get your newborn chiropractic check.
Colic
Whatever the reasons, even if your birth went smoothly your baby may be colicky and irritable.
Colic is unexplained crying in your baby. You've fed them, changed their nappy and given the cuddles… but something still seems to be bothering them and you just can't work it out. You may also notice your babies fists are clenched or they bring their knees up to the tummy. The cry may be higher pitch than usual which can be distressing to new parents.
Colic is diagnosed if it follows the rule of three. More than three hours of crying, three times a week for more than three weeks.
About 25% of babies are affected by colic and it usually comes on around six weeks of age. It's important to rule out other possible causes. This is why it's important to seek out a chiropractor experienced in treating babies and children. Our chiropractors are happy to communicate with your midwife, GP or paediatrician if needed.
If you feel like you've tried every colic remedy out there, from gripe water, herbal teas, changing your diet: excluding onions, soy, gluten and dairy, and colic powder, maybe it's time to try a newborn chiropractor.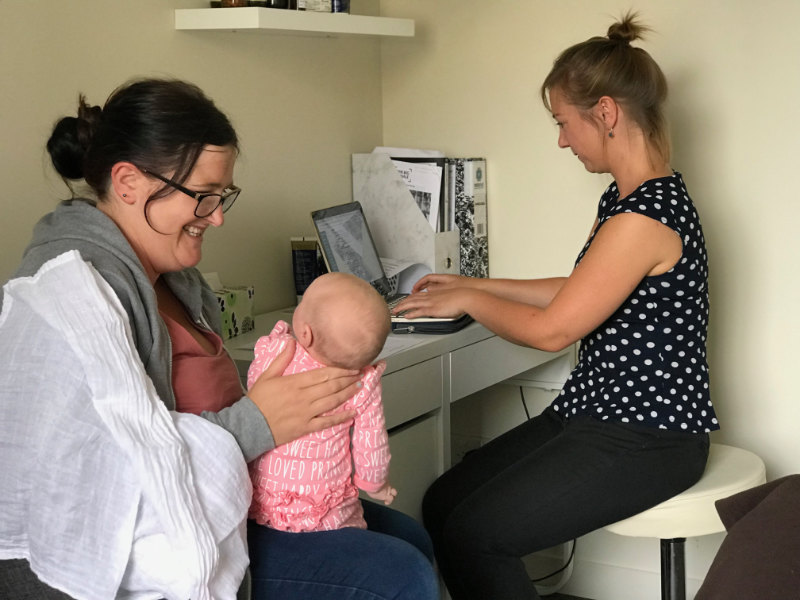 Infant and Baby Chiropractic Care
Chiropractors treat adults, babies and children for a range of issues. It's important to seek out a chiropractor who has experience in treating babies and children. There are different things to be aware of such as the birth process, feeding, reflexes and milestones.
In Queenstown, our chiropractor is experienced and loves to treat babies and children.
What does a baby & child chiropractor do?
We understand that it's sometimes difficult to time your baby's appointment. The best time to come in is after a nap and a feed if possible. We allow plenty of time if you do need to have a break for feeding or nappy change.
During an appointment, your chiropractor will ask various questions about your pregnancy, the birth process, and any milestones your baby may have reached. They'll ask about sleeping, feeding and crying patterns.
When examining your baby your chiropractor will assess head control, muscle tone and general coordination and reflexes.
When a chiropractor treats babies there are no bones or joints cracked. Babies are soft, malleable and extremely responsive to gentle treatment. The treatment and manipulation of muscles are gentle using pressure from the fingers or gentle pressure with the palms of the hands.
Your baby can be treated on the treatment table laying down, seated, or even while being fed or seated on the parents. It's really about what is most comfortable for your little one. We even have a special belly pillow that babies can securely lay in while on the treatment table.
For slightly older babies that may be crawling or walking your chiropractor may be on the floor following them around the room!
Baby chiropractic techniques
Gentle techniques are used from:
Massage around the spine, abdomen or hips
Gentle articulation of the joints ie. hips
Cranial-sacral treatment (very gentle treatment applied to the cranial/skull bones and sacrum/tail-bone)
Visceral treatment. Visceral means organs. We can gently manipulate areas such as the bowel to help trapped wind and constipation.
How does your baby respond during a treatment?
Sometimes babies will cry during the treatment, not because they're in pain, but because the pressure applied is very gentle. Your chiropractor will communicate with you the whole time, often the crying is just a release and often the baby will become settled during the treatment and sleep quite well after a treatment. Often as a new mum crying can be a little distressing but it is also an important way for babies to discharge when they're not able to verbally communicate with us yet.
Often babies become quite relaxed during treatment and let go of trapped wind, or even have a bowel motion.
After the treatment, you may notice some changes in your baby. This can be:
Increased feeding
Sleepy or longer naps
A little more crying for a short period
Your chiropractor will explain possible changes you may notice afterwards. But if ever you are concerned about anything, we encourage you to give us a call and we can check that everything is ok.
When treating toddlers it's important that your toddler feels safe and consents to treatment. If they are not being comfortable being touched or show signs of being unsure we'll take our time to make sure your toddler is comfortable. Slow and steady is best, to build a trusting relationship with your little one.
What can baby chiropractors help with?
Colic- unexplained and frequent crying
Trapped wind
Reflux and silent reflux
Infrequent bowel motions
Feeding and latching issues ie. difficulty feeding on one side or a weak sucking reflex
Transitioning to sitting and crawling
How do you find a baby and child chiropractor
If you haven't been recommended a particular chiropractor, find someone who is experienced and has an interest in treating babies and young children.
You want someone who understands pregnancy and the birth process as well as other interventions that may occur when having your baby.
A chiropractor who understands breastfeeding, latching and lactation
If you've heard of chiropractic for babies you may be interested in a general check. Remember the process of birth is a big one for mum and baby and we could all benefit with a little adjusting afterwards.